USA Triathlon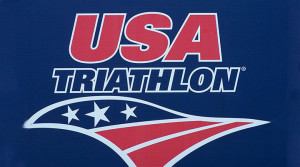 This is a USAT-sanctioned event. You must be an annual member and have your membership card with you OR pay a one-day event fee of $12 ($15 after Dec 31, 2015) at packet pickup. You may also purchase it online through USAT an annual membership for $45 ($50 after Dec 31, 2015).
Try these links to find our what USAT offers
USAT: Multisport Zone: "Here at USA Triathlon, we take great pride in hearing and sharing the stories of members who have made positive lifestyle changes thanks to participation in our sport." This site has great resources for learning about triathlons, training, nutrition, and the race community.
USAT: Safety and Responsibilities:

"We value the safety of all multisport participants, and it is crucial for athletes, race directors and all members of USA Triathlon's community to make safety at events a priority," said USA Triathlon CEO Rob Urbach.

Check out athlete and race director responsibilities here.
USAT Rules to Know
USAT most common penalties described – Triathlon is an incredible sport of endurance, persistence, and individual training. Many athletes spend months training for a great weekend and have the race of their life only to discover at the finish line that their overall time had been increased by a few minutes or in some cases disqualified due to a penalty on the course. We at Tri-California would like to help everybody avoid this unpleasant situation, so the following is a description of a few of the most common USAT penalties.
The USA Triathlon Competitive Rules address a number of different issues and can be found at www.usatriathlon.org. However, there are some specific rules that will be receiving particular attention at this race, in particular those dealing with crossing the centerline, bike position, drafting, being overtaken and unauthorized assistance.
1. Helmets:
Only helmets approved by the US Consumer Product Safety Commission (CPSC) may be used in USAT sanctioned events. Helmets must be worn at all times while on your bike. This means before, during, and after the event.
Penalty: Disqualification
2. Chin Straps:
Chin straps must be fastened at all times when on a bicycle. DO NOT unbuckle your chin strap unless you are off your bicycle.
Penalty: Disqualification on the course; time penalty in transition area only.
3. Outside Assistance:
No assistance other than that offered by race and medical officials may be used. Triathlons and duathlons are individual tests of fitness.
Penalty: Time penalty
4. Transition Area:
All equipment must be placed in the properly designated and individually assigned bike corral. The wheel of the bicycle must be down on the side of the assigned space. All participants must return their bicycles to an upright position in their designated bicycle corral. No person shall interfere with another participant's equipment or impede the progress of another participant. All bar ends must be solidly plugged. No participant shall bring ANY glass containers into the transition area.
Penalty: Time penalty or disqualification
5. Drafting:
Drafting–keep at least three bike lengths of clear space between you and the cyclist in front. If you move into the zone, you must pass within 15 seconds.
Position–keep to the right-hand side of the lane of travel unless passing. Illegal Pass– cyclists must pass on the left, not on the right.
Blocking–riding on the left side of the lane without passing anyone and impeding other cyclists attempting to pass.
Overtaken–once passed, you must immediately exit the draft zone from the rear, before attempting to pass again.
Penalty: Time penalty
6. Course:
All competitors are required to follow the prescribed course and to stay within all coned lanes. Cutting the course is an obvious violation and going outside the course is a safety issue. Cyclists shall not cross a solid yellow center line for ANY reason. Cyclists must obey all applicable traffic laws at all times.
Penalty: Referee's discretion, time penalty, or disqualification
7. Unsportsmanlike-Like Conduct:
Foul, harsh, argumentative, or abusive language or other unsportsmanlike conduct directed at race officials, USA Triathlon officials, volunteers, spectators, or fellow athletes is forbidden.
Penalty: Disqualification
8. Headphones:
Headphones, headsets, walkmans, iPods, mp3 players, or personal audio devices, etc. are not to be carried or worn at any time during the race.
Penalty: Time penalty
9. Race numbers:
All athletes are required to wear race numbers at all times during the run. Numbers must be clearly visible at all times. Numbers may not be altered in any way that prevents a clear identification. DO NOT transfer your number to any other athlete or take a number from an athlete that is not competing.
Penalty: Time penalty for missing or altered number, Disqualification, and a one-year suspension from membership in USAT for transferring a number without race director permission.
10. Wetsuits:
Each age group participant shall be permitted to wear a wetsuit without penalty in any event sanctioned by USA Triathlon up to and including a water temperature of 78 degrees Fahrenheit. When the water temperature is greater than 78 degrees but less than 84 degrees Fahrenheit, age group participants may wear a wetsuit at their own discretion, provided; however, that participants who wear a wetsuit within such temperature range shall not be eligible for prizes or awards. Above 84 degrees, wetsuits are prohibited.
11. Abandonment:
All personal equipment and belongings taken out onto the course must stay on the athlete the entire time. No garbage, clothing, etc. shall be thrown on the course.
Penalty: Time penalty
Variable Time Penalties
| | | | |
| --- | --- | --- | --- |
| Distance Category | 1st Offense | 2nd Offense | 3rd Offense |
| Sprint | 2:00 | 4:00 | DQ |
| Intermediate | 2:00 | 4:00 | DQ |
| Long | 4:00 | 8:00 | DQ |
| Ultra | 6:00 | 12:00 | DQ |
For a complete list of rules, please refer to the most up to date USA Triathlon Competitive Rules at:
http://www.usatriathlon.org/about-multisport/rulebook.aspx
Referees don't give warnings out on the course and don't tell you if a penalty will be assessed. Infractions are documented by referees and race officials and are reviewed by the head referee, who then decides if a penalty will be assessed.
Penalty Reports Posted at Results Stations
A list of penalties will be posted as soon as possible, at the Results stations. This is the same place that the preliminary results are posted. Once all the infraction reports have been reviewed and all the penalties determined and posted, the head referee (he or she is the person in the black and white striped shirt) will be visible and available to answer any questions or address any concerns about the penalties. The head referee will remain available until after the awards ceremony.
Contesting a Penalty
If you're concerned about a particular penalty or situation, the best (and usually only) thing you can do is talk to the head referee. He or she is the only person on-site at the race who can assess or rescind penalties. Race management does not assess penalties and cannot change anything if you receive one, however much they might want to help you.
It is best to talk to the head referee about any concerns while you're still at the race site. Although head referees are happy to try to help in the days and weeks after a race, it's much easier for everyone to address concerns while memories are fresh and all the information is close at hand. 10.5 Time for Filing Protests: All protests must be filed in writing and submitted to the Head Referee within sixty (60) minutes after the person filing the protest has completed the event.
Appealing a Penalty
Under certain, restricted conditions, penalties may be appealed to USA Triathlon headquarters. In general, only matters that can be determined with certainty through the production of tangible, physical evidence can be appealed. Judgment calls cannot be appealed, and violations of the bike position rules are specifically defined as judgment calls. In other words, the only person who can do anything at all about a bike position or drafting penalty is the head referee.
If you believe an appeal is appropriate, the head referee can provide you with the proper form or you can get it at the USAT triathlon website. A $100 filing fee is required. If you win you get your money back.
Questions About USAT Rules and Regulations
The best time to ask questions about the rules is before the race. If you have any questions, please ask a referee. USAT referees will be wearing either red uniform shirts, or red, white, and blue uniform jackets, or a striped uniform shirt. Believe it or not, we're there to help. Good racing!
USAT AGE REQUIREMENTS – YOUTH
Children's ages will be determined based on their age on December 31, so they may be in an older age group than the age they are on race day.
This event is USAT sanctioned and will therefore follow USAT Competitive Rules. Those include but are not limited to:
Each athlete must be USAT Insured – see next section for more details
Athletes will race according to their age as of December 31st that year
No flotation devices of any kind are permitted during the swim
All athletes must wear a helmet approved by the US Consumer Product Safety Commission during the bike portion. No time trial or "aero" helmets allowed
Helmets must be fastened before mounting the bicycle and remain fastened until the participant has completely dismounted; NO Aero helmets are allowed.
Aero bars, disk wheels and/or solid wheel cover are NOT permitted
Cyclists must ride in safe manner, which includes riding in the right lane, keeping two bike lengths between the person in front of them, and passing on the left only