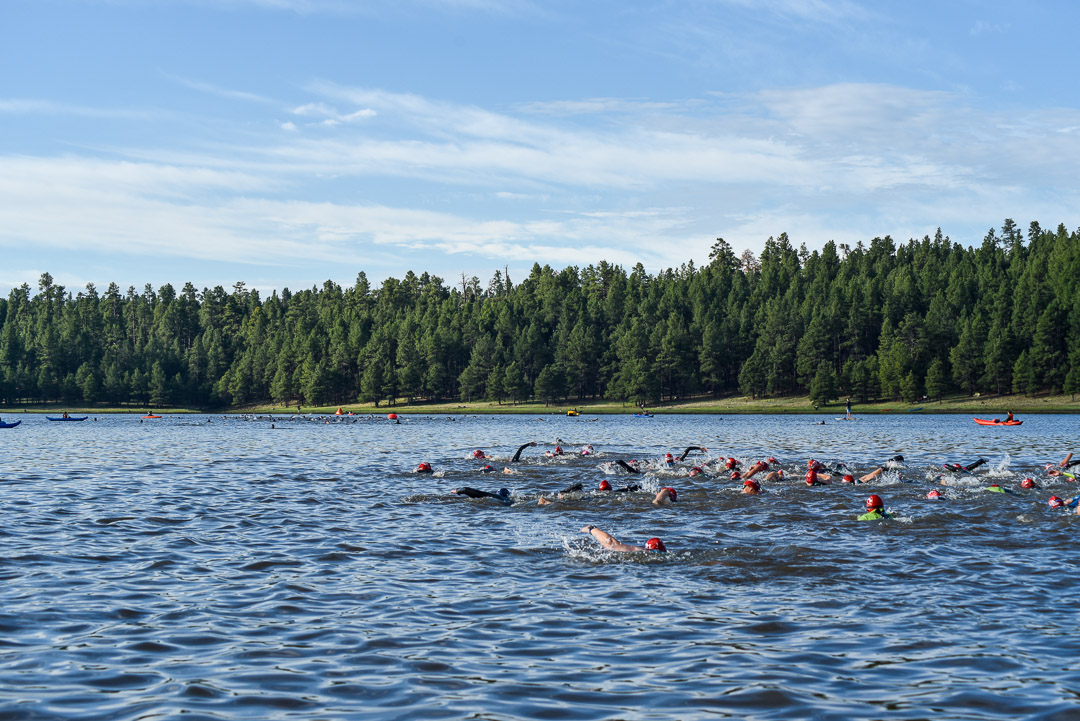 MOUNTAIN MAN TRIATHLON: SPRINT & OLYMPIC
This event goes on, rain or shine.
REGISTER
We shifted the July Mountain Man event to 2021. We appreciate the strength and support of the multisport community. We have automatically moved all 2020 registered athletes to the 2021 date.
We worked hard to create contingency, PPE, and safety plans, and will be sure to use best practices and USAT guidelines in our future events. 
In the mean time we have shifted to actively supporting and improving our local community during the pandemic. We hope that you have the opportunity to stay active, stay safe, and support your local community as well.
Please sign up through our contact form if you would like to receive updates.
This will be the 36th Annual Mountain Man. This local race has that good old hometown feel. Beautiful views of the San Francisco Peaks, Lake Mary, and Mormon Lake. Flagstaff has amazing summer weather with flora in full bloom. This event includes medals for all finishers, awards, food, fun, and a great course. It is one of the most beautiful courses in the West, and we work hard to make sure that you can enjoy race day. We start at the boat docks, about ten miles south of Flagstaff, AZ on Lake Mary Road at mile post 333. Directions from downtown Flagstaff. RFID Race Timing Systems by 4Peaks Racing.
Photos: Professional Photos from Action Media – Free Download for Participants – Check out all the great moments from last year's race. Search by Bib number.
Sprint Race Distances: 750 m Swim, 20 km Bike, and 5 km Run
Olympic Race Distances: 1500 m Swim, 40 km Bike, and 10 km Run
Start Time: The transition area will open at 5:30 AM. The first swim wave will start at 7:00 AM.
The Swim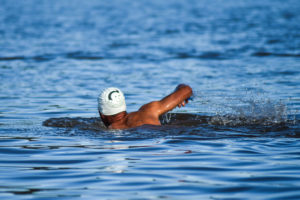 This is the City of Flagstaff Reservoir: Upper Lake Mary. Average lake temperature is 70° F. Wetsuits OK. Wave starts.
Rent your wetsuit at WetsuitRental.com or purchase one at JustWetsuits.com
.
The Bike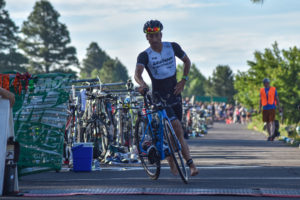 Out and back course on paved roads with wide bike shoulders. Sprint course is relatively flat; the Olympic course has a climb rewarded with great views of Mormon Lake and the San Francisco Peaks. Race numbers must be attached to your bike frame. Cyclists are personally responsible for the proper working condition of their bike. Bike helmets are required. Bike elevation graph
HERE
The Run
Out and back run on paved roads along beautiful Lake Mary. The Sprint course is a flat out and back; the Olympic course climbs "the hill" (385') and is otherwise flat. Race numbers must be worn and visible from the front. Water aid stations are every 1.5 miles. Traffic will not be stopped for this event, except at the intersections and turnarounds, and then at the discretion of the safety personnel. Run elevation graph
HERE
REGISTER
Early registration makes logistics easier and more cost effective for us, so the earlier you register the less you pay. Prices increase incrementally as we get closer to the event and have to lock in permit numbers and supplies.
You can manage and Self-Edit your registration information through ACTIVE up until a week before the event.
Race Categories for Everyone
We offer Aquabike, Clydesdale, and Athena race categories with awards for the top 3 overall male and female in each of these categories.
Aquabike: Swim, bike, and be done. Whether you have bad knees, are working through an injury, or just plain don't like to run, Aquabike could be the event for you. Your finishing time will be recorded as you cross the Bike In line at transition. From there you can take your time, rack your bike, then get your finisher medal and drop off your timing chip at the Finish banner.
Clydesdale and Athena recognize that not everyone is built the same way for endurance events. Brian Buzzard, Mountain Man Race Director, was a football player in college, and was crowned the Clydesdale USA Champion in 2019. To qualify for these categories you must be over a given weight (220 lbs. for males and 165 lbs. for females) and select the appropriate category when registering.
Could be a little cool in the early morning and a chance of monsoon rain later in the day: perfect for racing. Low 80's for the high.
Packet Pick Up and Late Registration
All athletes must present a picture ID to pick up their packet. You can only get your own packet, not any other competitors packet.  Pick up your packet at one of the following times.
Online registration closes on Friday at midnight, no race day registration, but in-person registration is available at packet pick up sessions.
Thursday 7/8 Packet pick up at Moxie in Scottsdale (2952 N Hayden Rd.) from 4:00-6:00 PM. No info sessions, just a quick pick up and run.
Friday 7/9 Packet pick up at Single Track Bikes located at 575 W. Riordan Rd., Flagstaff – 4:00-6:00 PM. No info sessions, just a quick pick up and run.
Saturday 7/10 Packet pick up, info session, and Q&A at race site from 2:00-4:30 PM (Upper Lake Mary Day Use Area/Docks). All timing chip pick up is on race morning.
For the one or two who can't make it, please get your packet on event morning BEFORE 6:15 AM. Your triathlon club is welcome to set up a tent next to the transition area.
PARKING FOR PACKET PICK UP AND RACE DAY: If there are spots available (first come first serve), then we recommend parking in the day use area (all day pass for $9). You can also park along the road, but be sure to park completely off of the pavement/asphalt. Do not park in any areas with "No Parking" signs posted. This is for the safety of participants, spectators, and drivers. Citations may be given to those in violation.
No race day registration.
This is a USAT sanctioned event. You must be an annual member and have your membership card with you OR pay a one-day event fee of $15 at packet pickup.You may also purchase it on line through USAT an annual membership.
USA Triathlon offers an Adult ($50) and Youth ($10) Annual Membership. This 12 month membership eliminates the requirement to purchase one-day memberships for any USA Triathlon sanctioned event and comes with exclusive sponsor discounts from USA Triathlon Partners.
All athletes are responsible for knowing and adhering to USAT rules and regulations. Please review these rules and be respectful of all athletes before, during, and after the event.

Little America is the feature hotel of the Mountain Man Triathlons. They are one of the sponsors of the post-race festivities and have a block of rooms set aside for athletes. To receive a discount: call to reserve your room and let them know that you will be there for Mountain Man.
Other Accommodations:
Several U.S. Forest Service campgrounds are located on the course. They don't take reservations and are on a first come first serve basis. Also, camping is allowed anywhere in the Coconino National Forest but not in the transition parking lots. Please check the forest service website for any fire or camping restrictions.
There are many great activities in Flagstaff. Make your experience amazing by spending the weekend. Plan your adventure HERE.
Cool, Clean, and Green
They just don't make towns like this anymore!